For the carrrn.org project, I played a pivotal role in designing and developing a website that represents the mission and values of CARRRN (Cultural Artifact Recovery and Repatriation Research Network). The website aimed to showcase the organization's commitment to recovering, researching, and repatriating cultural artifacts taken during the colonial period from Asia, Africa, and South America. It serves as a comprehensive database of these artifacts, providing valuable historical and cultural insights while advocating for their return to their countries of origin.
In this portfolio project, I take great pride in my contribution to carrrn.org. From the initial concept to the final implementation, I ensured that the website effectively communicates the organization's mission and objectives. The website serves as a central hub for educational events, news updates, and collaborations with museums, helping raise awareness and garner support for the repatriation of cultural treasures.
To reflect the organization's commitment to trust, authority, and reliability, I carefully selected a design that evokes these qualities. The color palette was inspired, with dark green chosen as the primary color. This hue blends seamlessly with the brand logo and aesthetics, creating a cohesive and visually appealing experience. The font choice of black text adds a touch of elegance and ensures clear readability, enhancing the overall user experience.
The design of carrrn.org aligns with the organization's goal of fostering empathy and understanding. By combining a visually captivating interface with user-friendly navigation, I aimed to engage visitors and encourage exploration of the comprehensive artifact database. Through thoughtful design choices and attention to detail, the website aims to create a sense of trust and authority while conveying the importance of repatriation.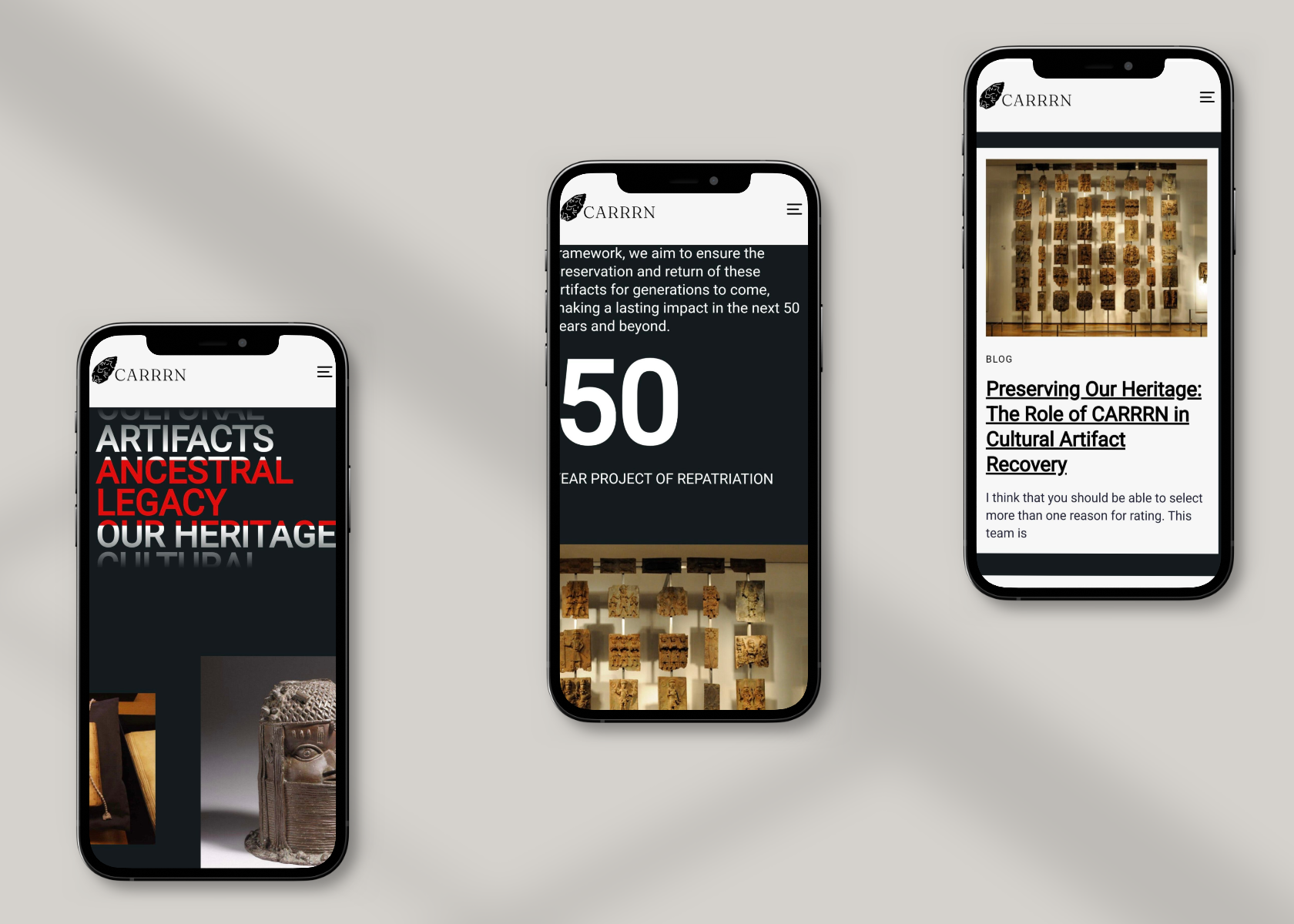 In conclusion, carrrn.org stands as a testament to the organization's mission of recovering, researching, and repatriating cultural artifacts. Through my involvement in this project, I strived to create a website that effectively communicates the organization's objectives while embodying trust, authority, and reliability. The design choices, including the inspired colors and typography, were carefully considered to evoke a sense of professionalism and convey the significance of the cause. I am proud to have played a role in the development of this impactful website, and I hope that it contributes to raising awareness and driving positive change in the realm of cultural artifact repatriation.